"Wigstock made a spectacle of freedom" by RM Vaughan, Xtra Magazine, 2020

Lady Bunny's drag festival took over Tompkins Square Park in New York City at the end of summer for 20-odd years. This Labour Day, revisit the fierce celebration with a selection of images from the mid-1990s by Montreal photographer Pierre Dalpé.
"International appeal of Beirut Art Residency" by Jimmy Dabbagh, The Arab Weekly, Beirut, Lebanon, 2015

The latest roster of resident artists includes Pierre Dalpé, a photographer from Montreal, whose works navigate between documentary reportage and staged scenarios to examine the relationship between the body, identity, disguise and performance; Lucienne Bestall, from Cape Town, who is preoccupied with considering the function of everyday objects within an artistic framework; and Serbian artist Ivana Ivkovic, who creates site-specific interventions.

"There is a little bit of a culture shock when you come from North America," Dalpé said. "But as I've gotten to know the city I like it more and more. I guess the challenge for me is sort of landing in a milieu you're not familiar with and having to connect with a lot of different people."

"Personae: Interview of Pierre Dalpé" by Alison Stieven-Taylor, L'Oeil de la Photographie, Paris, France, 2015

The notion of identity and exploring our other 'selves' is a subject that has influenced the work of Canadian photographer and digital media artist Pierre Dalpé for more than 20 years. Initially Dalpé used photography to explore his own ideas around identity. During his university years he was drawn to the drag scene in Montreal as he explains. "At that time I was going out to clubs and many of my friends were doing drag. I was experimenting with that too, and I thought it would be interesting to create portraits around that theme".

Early sitters were friends and the trust between close acquaintances allowed Dalpé to creatively roam. He took portraits in his friends' homes creating an intimacy that suffuses this visual commentary. Stylistically there are references to both observational documentary aesthetics, as well as classic portraiture, with images presented in diptych portraits that show the person in everyday clothes and in drag.
"Look into my eyes" by Chris Dupuis, Daily Xtra, Ottawa, 2014

At first glance, many of Pierre Dalpé's photographs seem to be shots of twins. But the Montreal photographer has a secret up his sleeve. Working with a combination of analogue and digital photography, he's become a master manipulator of images, sometimes doubling or tripling his subjects.

"I like contrasting the different aspects of my subjects and working with people whose genders, identities and personalities are fluid and malleable," he says. "None of us are simply one-dimensional, and I like bringing out the dualities of a single individual. We all have the capacity to express a multitude of personas, and this is what I'm looking to capture in my images."

Dalpé's first book, Personae, forms a survey of his work from 1990 to 2011. Drag queens, gender-fuckers and kids stand alongside wrestlers, ballet dancers and acrobats. His subjects stare down the barrel of his camera, addressing the viewer directly with their gazes.

"Pierre Dalpé fixe son objectif sur les alter egos" by Patrick Letendre, Fugues, Montreal, 2011

Derrière chaque individu se cache une facette méconnue, parfois même un autre personnage. Dans le cadre de son exposition Sur(face), le photographe Pierre Dalpé présente des clichés qui explorent les concepts d'alter egos, de dualité humaine et de jumeaux. Le résultat est une intrigante vitrine qui va susciter bien des questionnements.

Pierre Dalpé souligne que ses photos sont le reflet d'un désir humain de posséder une identité secrète ou imaginaire. « Chaque individu a la capacité de se glisser dans la peau d'un autre, raconte ce diplômé de l'Université Concordia. Sur(face) porte un regard sur le visage dissimulé. Certains portraits présentent de vrais jumeaux, certaines photos sont en réalité des jumeaux truqués de façon digitale. Ces images nous obligent à puiser au-delà de la surface. »
"Seeing double: MTL photographer Pierre Dalpé zooms onto hot secret identities & twin alter egos" by Richard Burnett, The Montreal Gazette Pop Tart Blog, Montreal, 2011

Ever wonder what it's like to have a twin or an alternate personality? In his latest solo exhibit, Sur(face), internationally-acclaimed Montreal photographer Pierre Dalpé focuses his lens on real twins, playing with identity while transforming solo subjects into digital doppelgangers.

Dalpé's Sur(face) explores hidden personalities, secret identities and imagined alter-egos. "Everyone has the potential to embody more than one persona and Sur(face) explores how identity can be multifaceted," he says. "Because many of the portraits feature both real and digital twins, none can be taken at surface value."

"Montreal gay photographer feted with a major exhibit in Mexico City" by Matthew Hays, Xtra!, Montreal, 2010

Fans of Pierre Dalpé recognize one of his favourite and most fascinating points of obsession. The Montreal gay photographer's work often captures doubles, twins or siblings. His striking photographs have been enhanced by the onset of digital photography, which allows for the easily manipulated creation of visual illusions, ultimately prompting the question: is that a real set of twins or one model posing twice?

Dalpé has specialized in spinning his often-erotic photography into brainteasers. Now, he's being honoured with a major exhibit, titled Personae, which opened May 26 in Mexico City.
"Pierre Dalpé's Duplicitous Heart" by Dayna McLeod, No More Potlucks, Issue #4, Montreal, 2009

Capitalizing on the multiplicity of an individual's personality and the many selves housed within all of us, Pierre Dalpé approaches each of his subjects with a duplicitous heart: he twins his subjects within the frame to expose the construction of identity while questioning the authenticity of the photographic image. Interested in the process of transformation, Dalpé collaborates with his subjects to express different facets of their personalities. Through this partnership, he is able to coax out identities that lay just below the surface, blurring the boundaries of who is real and who is not, producing family portraits derived from a single subject.
"Revealing alter egos" by Matthew Hays, Noise Makers 2008, Montreal Mirror, Montreal, 2008

"I really like playing with the idea of surface realities, of things not being what they appear to be. What is real and what's fake? Viewers could easily walk into a gallery and think they are looking at a series of real twins, or sibling performers. When they find out that the portraits may have been manipulated and that they"re looking at a mix of real twins and fake twins and that some of the men are women and vice versa, that's where I find the series becomes really interesting.

"My hope is that the images will coax the viewer to explore or question their own potentially hidden identities."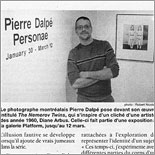 "Question de perception" by Robert Nicolas, Journal La Liberté, Winnipeg, 2004

Intitulée Personae, l'exposition de photographies en noir et blanc se propose d'explorer la multitude de personnages qui se cachent chez un individu. Cette thématique se manifeste par le biais du portrait. Les spectateurs ont le défi de s'interroger sur l'authenticité de l'ère représentée, le sexe des sujets, ainsi que la véritable identité des personnages à l'intérieur de la même mise en scène.

"Les choses ne sont pas toujours telles qu'elles apparaissent, avance l'artiste. Je travaille avec l'idée que la personnalité d'un individu, à chaque jour, a le potentiel de varier, en faisant ressortir différents éléments des gens."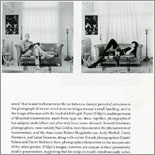 "Faking Death: Canadian Art Photography and the Canadian Imagination" by Penny Cousineau-Levine, McGill-Queen's University Press, p. 165, 2003

Pierre Dalpé's double portraits of Montreal transvestites, made from 1990 on, show, together, photographs of his subjects both before and after they have crossed-dressed. Several American photographers, most notably Nan Goldin, have documented the phenomenon of transvestism, and the Americans Robert Mapplethorpe, Andy Warhol, Cindy Sherman, and Lucas Samaras, along with earlier French photographers Claude Cahun and Pierre Molinier, have photographed themselves in the masquerade of the other gender. Dalpé's images, however, are unique in their persistently double presentation, suggesting that his subjects reside simultaneously in two different gender spaces, or in the space between them.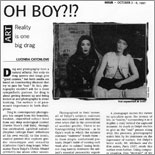 "Oh Boy?!?" by Lucinda Catchlove, Hour Magazine, Montreal, 1997

[...] Dalpé's latest work, Mr. Michaels and the Kim sisters, rends this surface even further. Using computer imaging, this "portrait" of Mr. Michaels and his "sisters" (both Mr. Michaels in drag) sitting together, invents not just the subject's mutable gender but also the time and space occupied. With this work Dalpé explores exciting new ground, pushing all the limits of storytelling and delving deeper into the concept of constructed reality. Truth may be stranger than fiction, but fiction can tell many more truths when freed from an adherence to surface reality. Just don't be too sure you can tell them apart.